Borrowers Will Save on Net Approximately $6 Billion in Interest Annually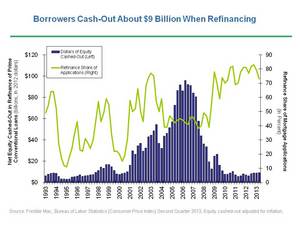 MCLEAN, VA--(Marketwired - Aug 13, 2013) -
Freddie Mac
(OTCQB: FMCC) today released the results of its second quarter 2013 quarterly refinance analysis, showing that borrowers are continuing to take advantage of near record low mortgage rates to lower their monthly payments, shorten their loan terms and overwhelmingly choosing the safety of long-term fixed-rate mortgages. Borrowers who refinanced in the second quarter of 2013 will save on net approximately $6 billion in interest over the next 12 months.
News Facts
The net dollars of home equity converted to cash as part of a refinance remained low compared to historical volumes. In the second quarter, an estimated $9.5 billion in net home equity of conventional prime-credit home mortgages was cashed out during a refinance. The peak in cash-out refinance volume was $84 billion during the second quarter of 2006. Adjusted for inflation, annual cash-out volumes during 2010 through 2012 have been the smallest since 1997.


Of borrowers who refinanced during the second quarter of 2013, 31 percent shortened their loan term (up 3 percent from the previous quarter), while 65 percent of borrowers kept the same term as the loan that they had paid off; 4 percent chose to lengthen their loan term. Likewise, 85 percent of those who refinanced their first-lien home mortgage maintained about the same loan amount or lowered their principal balance by paying in additional money at the closing table. That's just shy of the 88 percent peak during the second quarter of 2012.


More than 95 percent of refinancing borrowers chose a fixed-rate loan. Fixed-rate loans were preferred regardless of what the original loan product had been. For example, 79 percent of borrowers who had a hybrid ARM refinanced into a fixed-rate loan during the second quarter. In contrast, only 2 percent of borrowers who had a fixed-rate loan chose an ARM.


For the individual borrower, the average interest rate reduction was about 1.9 percentage points -- a savings of about 35 percent. On a $200,000 loan, that translates into saving about $3,700 in interest during the next 12 months.


Homeowners who refinanced through HARP during the second quarter of 2013 will save an average of $4,300 in interest during the first 12 months, or about $358 every month.